SPOT THE DOT & TRAKTOR
PRESENT: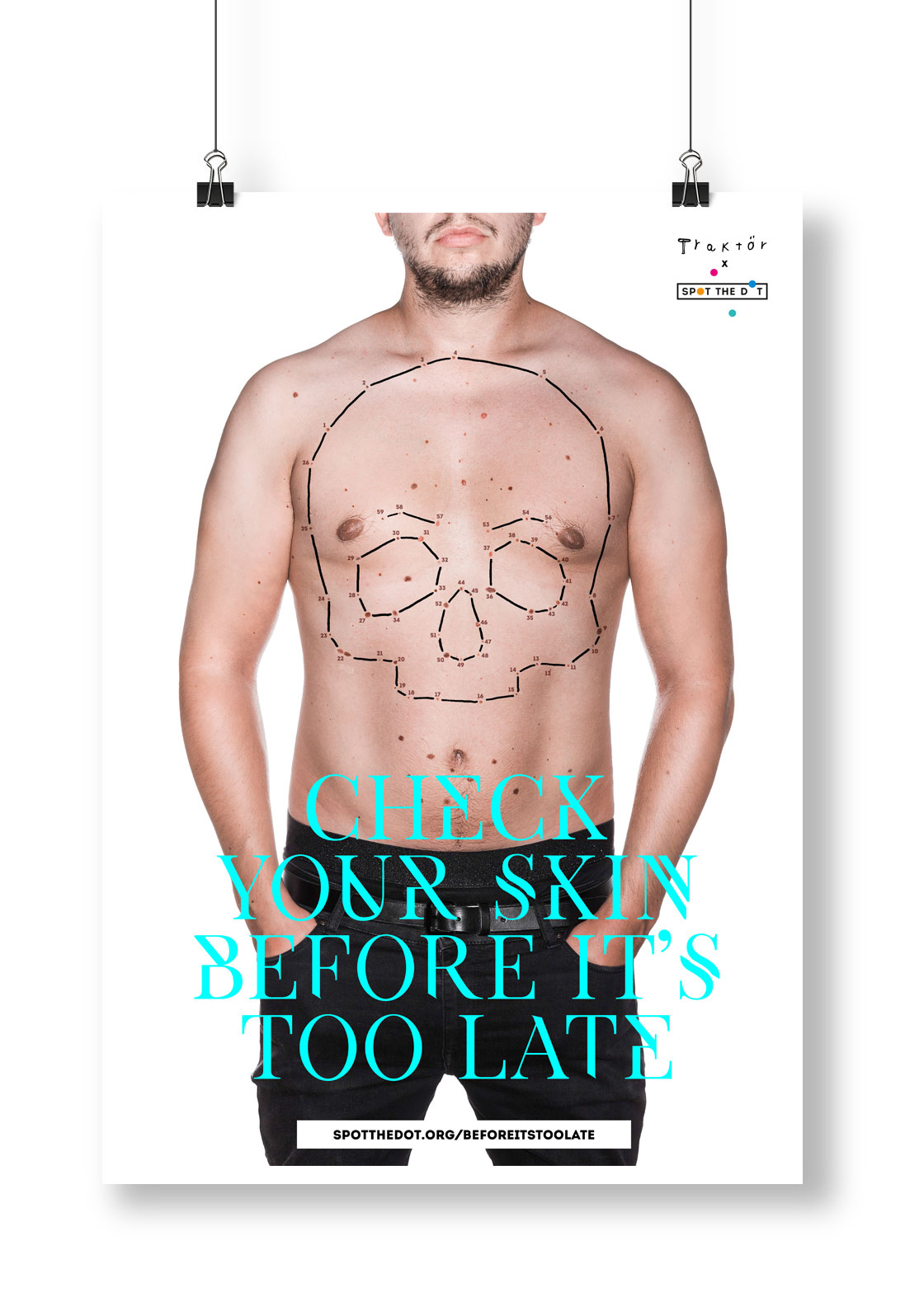 PUBLIC AWARENESS AD: BEFORE IT'S TOO LATE
This is a public awareness campaign to raise skincancer awareness around the globe. Each year millions of people globally are diagnosed with skin cancer. This means you should keep a close eye on your own skin. Remember, when prevention of skincancer fails it is still highly treatable if detected early. Keep a close eye on changes on your skin and make sure you do a regular skin check with a dermatologist or your general practitioner. More info at our main page: www.spotthedot.org

Traktor is a well known Design Agency from Vienna, they approached Spot the Dot because they love the campaign and wanted to contribute to raise skincancer awareness. Here you see the result of our collaboration. The official launch of this ad took place at the first official Art Against Skincancer event organized by both Traktor and Spot the Dot.
SUPPORT
This is a non-profit campaign made by the efforts of creatives and brands who all agree on the importance of raising skincancer awareness together. We feel that this makes our campaign even more special and valuable. Contact us via contact@spotthedot.org if you want to support our cause or look on our support page to see how you can support us in other ways.
WE'D LOVE IT IF YOU FOLLOW AND SHARE OUR CAMPAIGN
Instagram: @spot.the.dot
Twitter: @spot_the_dot
Facebook: @spotthedotcampaign
Tumblr: spotthedotcampaign.tumblr.com
Our store: redbubble.com/people/spotthedot

CONTACT
www.spotthedot.org
www.traktorwien.tumblr.com
contact@spotthedot.org
office@traktorwien.at
+43 (0)69911 330 280